Garage band gets out into world
Many people dream of becoming a famous musician, and a garage band presents the place to start.
After starting guitar lessons in 2017, Ethan Nelson, senior, said he fell in love with creating music. With his close friend Danny Gonzalez-Morales, Nelson decided to put together his own band.
Blue Haze mainly performs covers of rock songs, but the band members also write plenty of their own music.
"We all write our music together," Bobby Baldwin, drummer and a senior at Plainfield Central, said.
"Bobby handles the drum beat; Ethan handles the guitar riffs," senior Joaquin Braganza, guitarist and lead singer, said. Braganza is also an editor for East Side News.
"Joaquin does the lyrics," Nelson said. "Once we release our single, and then hopefully our album, we won't have any covers."
The four have been playing together for more than a year.
The group has said that tension often arises between them, which is not unusual in a band, making it difficult to get a lot done during the weekly rehearsals scheduled.
"Arguing especially [makes things stressful]. Sometimes we don't get our stuff done," Baldwin said.
"The only reason we started arguing during [August] is because we had to find a new singer," Gonzalez-Morales, the bassist and a senior, said touching on some difficulties they have had in the past when there were five members instead of four.
On top of trying to make sure the band has enough musicians, Blue Haze said they try their hardest to get out of the garage and into the world. The weight of handling the logistics of everything and booking gigs can be a lot.
"As we're getting to release our music and we're looking for gigs, there's a lot more networking and logistics stuff that I have to do now, so that's also pretty stressful," Braganza said.
On the other hand, Blue Haze has grown to become a family. Their passion for music and drive to become something bigger brings them together despite stressors and tension.
No matter how much they may want to quit from time to time, they said they love being in a band, and nothing can change that.
"It has its ups and downs, but everything does; nothing is ever perfect. You just got to work with what you got and sometimes you get something great," Braganza said.
"Like Bobby came out of nowhere, and we love him. Danny is super dependable. Ethan is great at coming up with his lead parts and everything; it really pulls songs together," he said.
As the group looks for gigs, Blue Haze members said they have high hopes for what the band may one day become. Although it may be difficult to succeed in a competitive, entertainment field, Blue Haze wants to be heard.
"I honestly hope it leads into something really huge," Baldwin said.
"I want to at least make it big and not stay in Ethan's garage," Gonzalez said.
With the upcoming single "Shut Me Up" being recorded, Blue Haze has begun to get their music onto platforms where anyone can listen.
For updates about when and where music is coming out, follow on Instagram @thebluehazeband. Or if live music is an interest, talk to Nelson and watch Blue Haze perform live on any given
Friday in Nelson's garage.
Because, after all, where would a garage band be without its garage?
About the Writer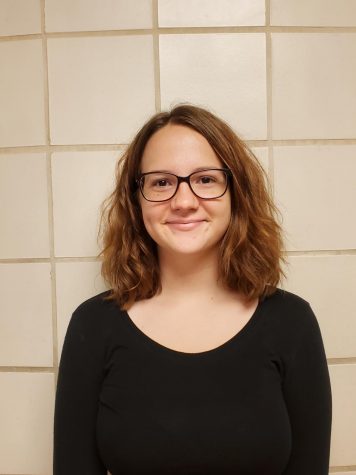 Amber Speer, Staff Writer
I'm a senior staff writer. I joined journalism this year because after high school I'm headed off the be a journalist for the Navy! Right now, I'm in tech...