Powderpuff players ponder possibilities
During Homecoming Week, juniors and seniors planned to compete against each other in Powderpuff (a flag football game) with a half time show featuring male cheerleaders on Sept. 22 on the football field. The athletes talked to East Side News in the days leading up to this time-honored tradition.
What made you want to join Powderpuff? Do any athletes inspire you?
Marin Flynn, junior: I wanted to join Powderpuff so I could play with my friends. I [also] wanted an opportunity to compete and have fun.
Teagan Pranchke, senior: I'm a very competitive person and we didn't have the opportunity to do it last year. Serena Williams really inspires me.
Cheerleader Dylan Gaston, senior: I've always thought it was cool to do and since it's my senior year I wanted to get involved. … Many of my friends cheer for PEHS, so it's cool they're gonna be teaching me and the others cheers/chants.
What are you most excited about?
Mia Nino, junior: I am most excited to be able to play with the whole junior class of girls, so we have fun and compete against the seniors all together.
Pranchke:  I am so excited for the game coming up. Class of 2022 is such a fun, athletic class, I can see us having a blast.
Gaston: I'm excited for the school spirit and everyone to be there, everyone gathering as one will make east feel like a good place to be a part of and I also can't wait to see the girls play football and the experience us guys will have cheering.
What are the unexpected challenges of football?
Nino: I think some unexpected challenges will be learning how to work together on the field and trying to perform our plays against defenders.
Pranchke: Learning how to properly throw a ball and set up the right way.
What do you anticipate about the game? Win? Close game?
Flynn: I anticipate the game to be very competitive. The seniors didn't get a game last year due to COVID. So, I think they will be very set on winning. I predict the game will be close, but I've heard the refs rig in favor of the seniors.
Pranchke: Class of 2022 is going to crush the juniors.
Do you play football at home? Are you an athlete? Explain.
Flynn: I have never played football, but I have watched it before. I do play soccer and run cross country.
Pranchke: I do not play football. However, I play softball here at PEHS, and I used to play basketball as well.
If you play football, how does it feel to be on the other side of the field?
Gaston: I do play football. I think it's gonna be different cheering, but I think overall it's gonna be fun to cheer for a day and try something new.
Would you join the football team if you could? Should the team be open to everyone? Explain.
Flynn: I would actually join the football team if I could. But I want it to be a fair team where girls play against girls.
Pranchke: Personally I wouldn't join the football team, but I feel like anyone can join the team. I mean, if you're good enough you'll play regardless of gender.
How confident are you in your ability to win the game?
Pranchke: I have the most confidence in the seniors this year. It's truly a fun group to play with and be around. We are all talented and outgoing and you can't really beat that.
Nino: I am pretty confident in ourselves and our team as a whole. I think we will all come together and work hard to try our best to win this game.
Leave a Comment
About the Contributor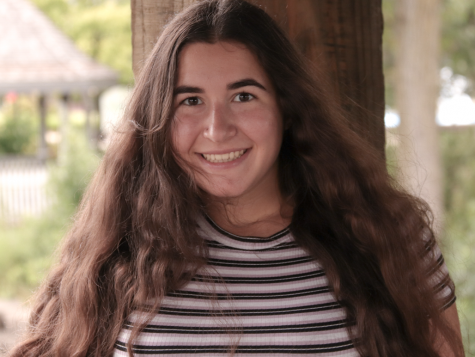 Laine Cibulskis, Editor-in-chief
Writing is one of my many passions. I'm a senior this year, and this is my second year as the Editor-in-chief of East Side News. I love exploring the happenings...