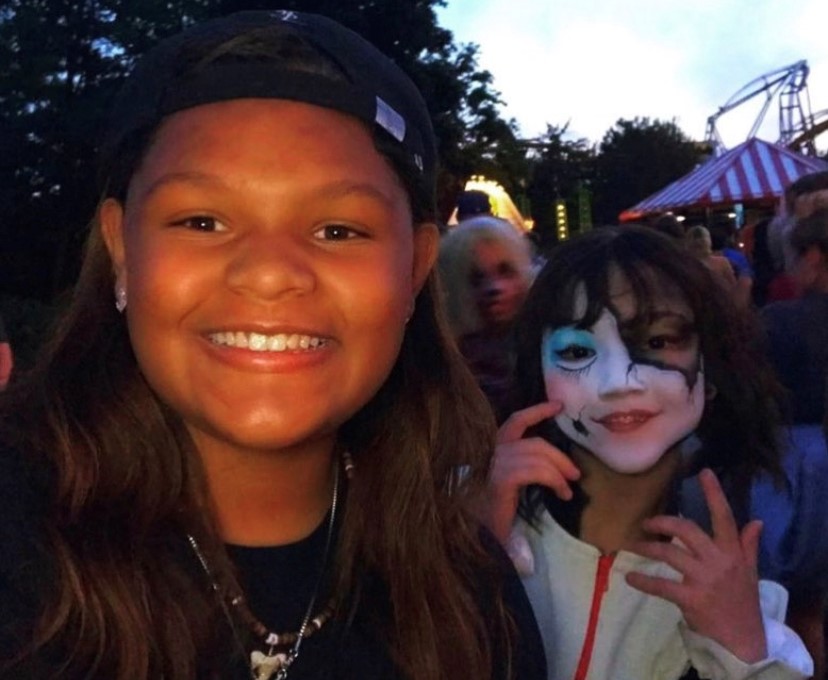 Rayne Branch
Fright Fest Review
FEAR FACTOR: 8/10
FUN FACTOR : 10/10
FAVORITE CHARACTER: Knox 
FAVORITE HAUNTED HOUSE: 13th Order
PRICES: $84.99 for admission and $99.99 for admission and maze combo if purchased on-site.
$55.99 for admission and $76.99 for admission and maze combo if purchased online. The maze pass wristband is $17 online and $22 at the park.
WARNINGS: flashing lights, heights, dark, loud noises, loud music, fast paced, crowded place
The spooky season is upon us, and Fright Fest is back with all new scares. As an experienced attendee, let me describe what I see.
Upon entering, Six Flags attendants are welcomed by a gigantic grim reaper/skeleton in the middle of the park's lake.
Then make one's way around the park and catch the parade of monsters which includes clowns, vampires, and zombies.
Keep eyes peeled for Knox, the infamous Fright Fest Founder. He is a devilish-looking creature with red horns and an eerie smile that will chill people to the bone. When seen, the real terror begins.
After the parade, scare actors walk around the park; while not allowed to touch people, they will reach out and make noises.
Also, they will single handedly "hunt" down terrified people. If not a scaredy cat, there is nothing to worry about.
I would not advise bringing kids under 13 because there is blood and gore and other scariness that may be too disturbing for them.
Lines to attractions such as rides can be incredibly long, so stay patient. Pass the time by making friends in line with others waiting, but be careful. All of a sudden, as people reach the front of the line, creatures also board the rollercoaster. Yikes!
Fright Fest offers several haunted themed areas, haunted houses, and scheduled performances featuring the monsters who roam the park as well as a Knox meet-and-greet where people can talk to him if they dare or get a picture taken with him.
Feel free to take selfies with the actors who never break character which makes it more exciting, plus get some great instagram shots.
Six Flags is known for its haunted houses, so it is well worth the extra money to get access to the haunted houses, such as the 13th Order and the Condemned Haunted House.
Get a truly frightening evening of fun after the sun sets, featuring thrills and activities for the whole family. 
As the darkness of night falls on the park, nightmares will abound at every corner. Ghouls roam free, so they can carry out their daily hunting rituals.
Beware. There is no place to hide. Not even on the fastest ride.