SPORTS: PEHS winter pep guard starts off a strong season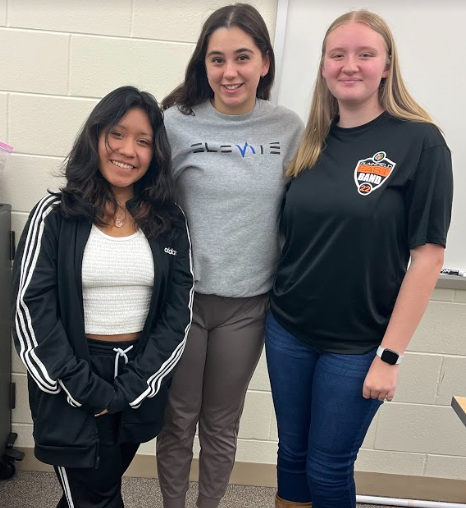 Plainfield East winter Pep Guard is kicking off another season this year with new coaches Alex Sweetie and Loren Hibner. 
Although a participant in the combined Plainfield winter guard, PEHS has its own version of winter spinning: Pep Guard. They perform at each home game and rehearse about twice a week on Tuesdays and Thursdays.
After winning first place in their marching season, coach Sweetie hopes to build on that success but doesn't only see the competitive aspects of the guard.
Sweetie said, "I think you get a lot of confidence from it as someone who's been in it for so long. Seeing them try it and then get it. Or doing one hard thing, and once you get that, you're like, 'okay, give me another'. I really like seeing that as an accomplishment, that you can go from someone who doesn't know what a flag is to trying all these crazy things."
The winter season Pep Guard does not compete the same way the marching band guard does, making it all the more enjoyable for outstanding members Leslie Valerio and Katie McAdam. Both have been in color guard since their freshman year and find Pep Guard to be an enjoyable, stress-free environment.
McAdam said, "I take it out when I practice. When I spin, that's my stress reliever. I almost think it's like learning to ride a bike. You're scared to do it at first, but once you get the hang of it, you can ride your bike forever." 
Along with life-long memories and moral-raising traditions, the guard focuses on personal improvement and team bonding (like traditions that include eating an orange and kissing flag poles).
Valerio said, "I think tosses and finally getting them are the biggest accomplishments that you can see within yourself when you're in guard. Or just learning anything new in general. It's really hard to pick up. I notice that as we get new members in Pep Guard, it took them a while to get it, but once they do, it's really rewarding."
Coach Sweetie would like to invite anyone interested in joining to try out "one of the best sports and activities to be in." She said, "I really like seeing them all grow and seeing what they can do. Pushing them to do better than I think they think they are. I think everybody has so much potential that if you have a good teacher or coach, then you can do anything."
Leave a Comment
About the Contributor
Daniella Torres, Staff Writer
Hola, my name is Daniella Torres, I am a Junior and this is my second year working with East Side News. I like writing and reading poetry, dancing, and...