Yearbook draws up first place win in state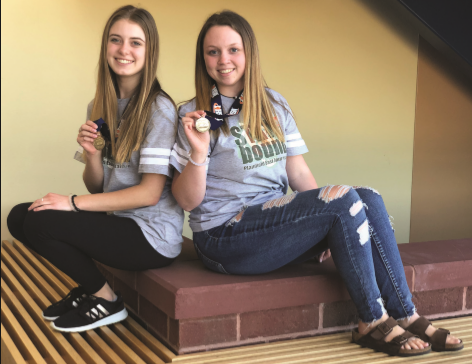 Jarod Obando, 2018-2019 News Editor & Page Design Editor
May 17, 2019
After several years of qualifying for and placing in the IHSA state journalism competition, Yearbook now has two state champions who worked as a team in Yearbook Theme Development.
Juniors Lexi Rudolph and Julia Nawa, best friends since kindergarten, won first place in the state contest on April 26 at Heartland Community College in Normal.
As if it could not get much better, it was Rudolph's birthday.
"We were given a (thematic) topic, and we had to come up with a theme and design the cover page, the inside cover, and write an essay about it. The essay was about what we did to the cover and the title page, and how we would incorporate the theme into the rest of the book," Rudolph said.
Rudolph and Nawa enrolled in an art class together freshman year, then joined yearbook. While they both belong to the yearbook team, they work on the yearbook during different class periods because of their schedules.
That did not stop them from working collectively as teammates and preparing for the contest.
The category gives two-member team less than three hours to create a theme for an annual publication and carry it out thematically in writing and art.
"We were given the topic 'Our Story,' and we decided to make that into a movie theme. Our title was 'Our Story: In Motion," Rudolph said.
The competition does not allow for the convenience of a digital medium. Instead, competitors had to draw all the illustrations on graph paper using their own materials.
"There are certain requirements that we have to make. Our front cover has to have our theme somewhere on it, and then the title page has to have all the information they gave us," Nawa said.
"When you think of a story, you think of a book. We didn't want to be like everyone else. We thought of a movie instead because a movie also portrays a story," Rudolph said.
The competition consisted of two blocks of time with an optional 30-minute break. Rudolph and Julia opted to forego the break and work through it.
"We spent about a half an hour just trying to brainstorm different ideas," Nawa said.
"For the title page, we used a clapboard because that's what directors use between the scenes, and we put all the school information on the title page," Nawa said.
"We needed to figure out how to incorporate 'Our Story' into a yearbook. So, coming up with the motion picture was the hardest part, I'd say," Rudolph said.
"My dad didn't believe me [when I won].  He thought I was joking," Nawa said.
Senior Delaney Drummond also placed in the contest while East Side News graphics editor Jarod Obando qualified in newspaper design, after winning first place in Sectionals. He did not place in state.
Drummond placed fourth in Photo Storytelling and was coached by yearbook adviser and teacher Emily Tonon.
"There was no doubt in my mind that she would place this year. She has worked so hard and developed her own style over the past several years.  When she placed at Sectionals, I knew this was her year," Tonon said.
"Try something new," Rudolph said as advice to others.
"This is obviously all new for me, but we got pretty far," Rudolph said.
"You just have to be creative, and you just have to put a lot of work into it," Nawa said.
This is the second time the journalism program, which includes yearbook and East Side News, has had a state champion. East Side News won the school's very first IHSA championship in 2013 in the advertising category.