ASL bring deaf awareness and eductation
From 99 to six.
Four years ago, 99 students enrolled in the new American Sign Language class at East. Of that number, six students remain in ASL Four.
The school's first ASL teacher Cortney Troy said she has experienced seeing her students grow from ASL One users to ASL Four. Her classes range from 34 students enrolled to that of six.
Troy said, "I didn't have that sense of home and stability in this school [initially]. I think, as time has gone on, my room has become an ASL hub that students flock to, that they feel welcome in. They know this classroom is theirs as much as mine."
In her smallest class, Troy has gotten to know her students very well.
"I think with the six of us, well six [students] and me makes seven, since I've had [them] the past four years, it's a real sense of community between the six of us," Troy said.
The few students in the class said they have enjoyed their experiences while learning ASL.
"I've had most of these people in my classes since freshman year, so I've been able to grow, connect, and bond with all of them," senior Nick Smith, enrolled in ASL Four, said.
"It makes the ASL Four experience even better," Smith said.
As more states and high schools begin to recognize ASL as a foreign language requirement, more students are enrolling. Last year, East had Troy and a part time ASL teacher. This year, the addition of Barbara Rieger makes two, full-time ASL teachers.
The class has been progressing to cover four years of curriculum. There is also now an extracurricular club and a National Honors Society dedicated for American Sign Language.
The club does a lot of different activities ranging from watching deaf movies to baking cookies to going to silent suppers with other schools. The ASL club marched in the recent Homecoming Parade on Sept. 28.
The small ASL Four class is discussing the benefits of taking a potential trip to Gallaudet University in the summer. Gallaudet is a private university in Washington DC for the deaf and hard-of-hearing.
As the past few years have gone by, Troy said she has been able to grow her class and club. She said that she has also seen herself grow as an ASL teacher.
"Once you teach the curriculum more than once," Troy said, "you can grow as a professional of what activities worked, what didn't, what follow-up activities you need. I think I've gotten better with assessing where my students are."
Taylor Yates, a senior in the class, said, "ASL is the way to go."
Troy got her teaching degree for Deaf and hard-of-hearing education from Illinois State University. Before coming to PEHS, she did not solely teach sign language.
"I used to teach [various subjects] at an alternative school," Troy said.
"It was a lot more of a behavioral school," she said. "It was a great experience as a first-year teacher."
Nine years ago, when Troy began teaching, ASL was not offered in many high schools. Now, all high schools in Plainfield School District 202 offer American Sign Language as a foreign language credit.
"And that's kind of how [ASL is] spreading," Troy said. "'Oh, well a couple of schools around me have it, we should pick it up too.' And that's only in the past recent five or six years that it's kind of picked up."
Sign Language is a prominent form of communication for the deaf and hard-of-hearing. As more students learn the language and about the Deaf culture, it becomes easier for the deaf and hard of hearing community to coexist in a hearing world, Troy said.
Troy said she firmly believes in the importance of learning sign language and encourages everyone to consider taking the class.
She said, one of her favorite quotes comes from I. King Jordan, the first Deaf president of Gallaudet University. He said, "Deaf people can do anything except hear."
About the Writer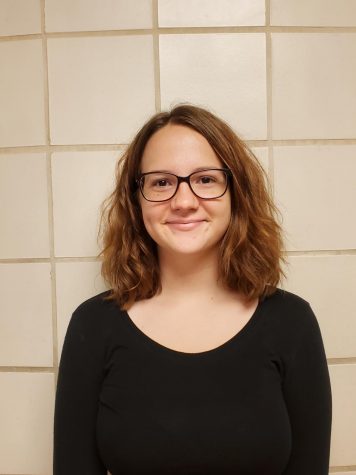 Amber Speer, Staff Writer
I'm a senior staff writer. I joined journalism this year because after high school I'm headed off the be a journalist for the Navy! Right now, I'm in tech...