New curriculum diversity committee reflects on cultural awareness
The summer of 2020 in the United States, characterized by a public health crisis from coast to coast and nationwide protests against police brutality and racism, left many institutions – from hospitals to government authorities and schools – reevaluating its function and desired impact. 
For many community members, staff and students within District 202, this meant starting the school year online and taking a look at diversity within the D202 curricula with the newly formed cultural awareness and curriculum diversity committee which is in its "baby stages," according to Principal Dr. Joe O'Brien.
"The district started a committee, and we're looking to implement a committee of our own." O'Brien said.
"
I think that just keeping the status quo isn't necessarily a good thing for education"
— Daniel Vergo
"We do have teachers [and other staff members] who have agreed to be on board, but we have not yet even had the opportunity to meet remotely. The planning meetings and idea gathering information pieces, those are forthcoming as well, and we are looking to listen to people and get people's opinions to get a format and a platform in place," O'Brien said.
O'Brien and Associate Principal of Curriculum and Instruction Kate Morris head the East committee.
Morris said, "We put feelers out there to see who would be interested and got feedback from lots of different people in the building like teachers, deans, counselors, social workers, and administrators. We wanted to have a wide variety of people and different perspectives – that's the point of having a committee… We plan on meeting soon with the committee just to get a feel for different ideas of how we can celebrate different cultures through a lot of different avenues remotely, and then continue that when we get back into the building."
The committee will determine it's official title once they've had their first meeting. Morris said, "The name is not as important as the work we're going to do."
Humanities teacher Kady Faifield, Poetry Club and Speech Team sponsor, said, "I think that it is a responsibility of schools to expose students to different cultures and viewpoints. Schools have a duty to engage students in multiple perspectives, so that they can have a more robust understanding of the world around them. … Having discussions within classes can help students (and staff) to learn from each other."
In a recent poll, East Side News asked students, "In SD 202, did you learn more about the significant contributions made to math by Greek or Arab scholars?" 272 students (35.7%) answered Greek, 27 students (3.55%) answered Arab, 382 students (50.2%) answered both, and 80 students (10.5%) answered neither.
John F. Kennedy Middle School 8th Grade Math and Algebra 1 Honors teacher Zachary Mangunson plans to introduce the contributions of other societies to mathematics. 
"[It's] something I've been reading about this summer and plan to introduce in the future as I learn more about societal contributions from other nationalities," Mangunson said.
"This was never a part of my education growing up. We touched on some Greek/Roman mathematicians in college, but I can definitely say this wasn't a part of my high school education at all. I have a lot to learn about this before I'm comfortable teaching it in the classroom, but I plan to do that where I can… I'm hoping once the committee starts meeting they will help to provide us with ideas or techniques we can use in the classroom," Mangunson said.
Daniel Vergo, Humanities division chair and Human Geography teacher, said the committee is an efficient and sensible way to address diversity within the curriculum in conjunction with the way D202 works with adopting books because the committee and other teachers outside the committee get to review and make suggestions for the proposal of new books.
"I think that just keeping the status quo isn't necessarily a good thing for education," Vergo said.
"Education needs to make sure that they are dynamic, and that we're changing with the times. Diversity in terms of socioeconomic status, and obviously racial and ethnic status, I think we should really address within our building, because Plainfield East is a very diverse school. … Being able to relate to students like that is incredibly important," Vergo said.
Social Studies teacher Kanwerdeep Sarkaria said, "It's important that we as a committee understand the heartbeat of our school. We are incredibly blessed as educators to teach in a building that is so diverse and full of so many backgrounds and stories. As a committee we want to make sure that we represent the various walks of life that comprise our school and give them a place where they feel valued, understood, and safe to be themselves."
"There's a lot of things going on today. We try to use that as a vessel to help students become  more aware of the world around them right now," Vergo said.
 "Those other stories in history are much more diverse than I would say history books that I would read… History of even 20 years ago was very much about powerful white men doing things, and everyone else are background players in this stage we call life… Real history is much different. And just by finding that and showing it to our kids lends itself to diversity," he said.
Leave a Comment
About the Writer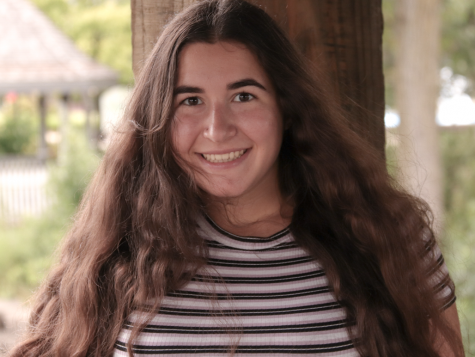 Laine Cibulskis, Editor-in-chief
Writing is one of my many passions. I'm a senior this year, and this is my second year as the Editor-in-chief of East Side News. I love exploring the happenings...