Swimmer backstrokes towards teamwork
Training during turbulent times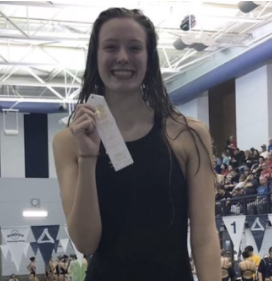 Shannon McGraw – Swim
How long have you been swimming? And for what event?
"I've been swimming since fifth grade. I am a backstroker."
Describe swimming.
"I think swimming is a really tough sport. Even while you're competing in a solo event, you are still competing for your team. It is a super fun sport, but a lot of work has to be put into it. It's never easy, but it is rewarding to get a new personal best on an event."
As a senior, what are some of your responsibilities on the team?
"Us seniors have been working really hard this year to help this season be as normal as possible for not only the freshman but everyone on the team. We want to set a good example for the seniors next year and the rest of the girls too."
What challenges do you face as a swimmer?
"The hardest challenges I encounter as a swimmer are definitely mental blocks. Sometimes there will be super hard practices and being able to get over the fact that the set is going to hurt is a big challenge and deciding to push as hard as you physically can can be difficult. Also having bad swims at meets can be really upsetting, but you have to be able to get over it and work harder to get better."
What motivates you to overcome challenges?
"I am motivated to push myself in practice and meet not only my family and friends who are huge supporters but also my team and coach who are always super supportive of everyone. We cheer each other on and constantly hype each other up. I am also motivated by making improvements in my times because, in order to get better, you have to train hard in practice and swim hard at meets."
What does practice look like?
"For practice, we have about 30-ish girls in six lanes, and we have between two and three girls on each end of the wall so we can maintain social distancing. We have to stay six feet apart in the water as well. Other than that aspect, practice is pretty regular to what we have been doing in the past."
Describe senior year and the team.
"My experience on varsity has been absolutely amazing. I love all the girls on the team, JV and Varsity, and our coach is an amazing coach and an awesome motivator. Our team has always gotten together, and everyone is super supportive towards one another."
Leave a Comment
About the Contributor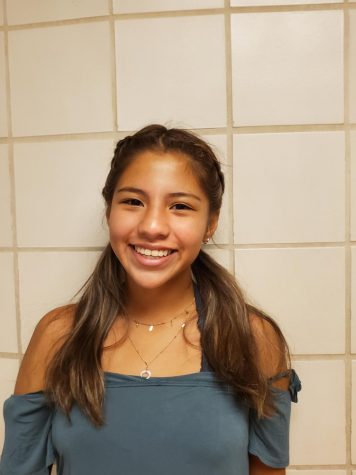 Kaely Espinoza, Sports Editor
Hello,

This is my first year in journalism! I'm a sophomore and my many favorite things include playing volleyball and soccer on a competitive level....