Soccer shoots for success
As the dusty fall air begins breaching into colder times, the boys' soccer team continues heating up the game as the highest seed East boys soccer team in school history continues its path towards further successes. 
  Coach Cosimo Patano, a physical education teacher, said, "How we play, our style, the players within the style, and the system is what stands out most. We have players … doing what they need to do to get results and compete." 
According to some team members, talent and team dynamics are two main factors East brings to the field this year.
"We have a lot of talent, a lot of different talent, a lot of different people [who] come from different backgrounds, different areas, but everyone comes together just to have fun and win," Bryant Tchoffa, senior, said.
Matthew Manzella, senior, said, "The dynamics are excellent; by far the best I have seen in my four years at East. Everyone has each other's backs, and we all share common goals. It is the most inspiring atmosphere I have ever played soccer in before."
Patano appreciates the match members of the team make with each other on the field.
"We're pretty well-rounded. We have a lot of depth and a lot of players that can play different roles. There's not a big drop-off. Their personalities match up well. We have a good balance of strength, soccer, and their mindset is good," Patano said.
Center midfielder and senior Max Ibarra agrees, particularly with the importance of the bond that keeps the team together and performing at their best.
"We don't bring each other down, that's one thing. If one [of us] has a mistake, we try to correct it, tell them to move on, learn from it, and do better next time. But we never are shouting or swearing at each other, bringing each other down, because that just doesn't help the team overall. We're always pushing ourselves to do more than expected," Ibarra said.
The team also brings effort to the game outside of regular practices, including extra practices as well as academics.
Tchoffa said, "Everyone is locked in; everyone is dedicated. Even if we don't have team practices, we have senior-led practices or captain practices. People show up to soccer fields and just train together. People come to the East soccer fields before school starts in the morning to shoot or dribble a ball… Everyone just wants to get better."
"I push and challenge them [regarding] how they comport themselves within the classroom, the school; trying to get them to commit to other things and have a balance at the same time," Patano said. 
Some players describe East soccer as transcending beyond a team.
"We have a sense of brotherhood. We're there for each other no matter what, helping each other out. If one is down, the rest of us go help pick him up," Ibarra said.
Tchoffa said, "Our biggest strength is staying together."
Community, according to some players, was important throughout COVID-19, when the season was impacted by playing fewer games and a limited season.
"We didn't get to have the full experience with multiple tournaments and all the traveling. It was really different. Even though it was tough times, we still have to bond. We still have to play together. The little time we had we made the most of it," Tchoffa said.
"COVID taught our team to take nothing for granted. Especially last season, we saw multiple conference opponents have to quarantine and forfeit games due to exposures. The majority of the varsity team this year was involved in the program last year, so everyone knows that this is our one shot and to treat every moment like it's our last," Manzella said.
Patano and Ibarra stress the importance of putting the team first and appreciating the opportunity to play.
"We went with the concept of Plainfield East rather than… "I" statements, and [we] talk about how the team does, how we as a team are doing, how we can help each other. [It's] more of a team concept rather than individualism," Patano said.
Ibarra said, "I feel happy to share the field with my teammates. I feel encouraged to give everything I have with my teammates as well as my coach. [I'm] grateful and happy I have this opportunity that I have to cherish."
As the season continues and the state series approaches, members of the team continue to look forward.
"We're never looking back… What's in the past is in the past and we can't change it, but we look forward to the future," Ibarra said.
Leave a Comment
About the Contributor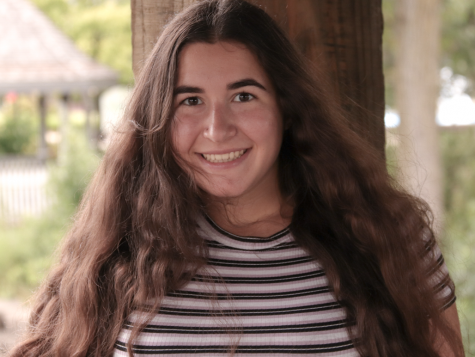 Laine Cibulskis, Editor-in-chief
Writing is one of my many passions. I'm a senior this year, and this is my second year as the Editor-in-chief of East Side News. I love exploring the happenings...