Tutoring facilitates student growth, learning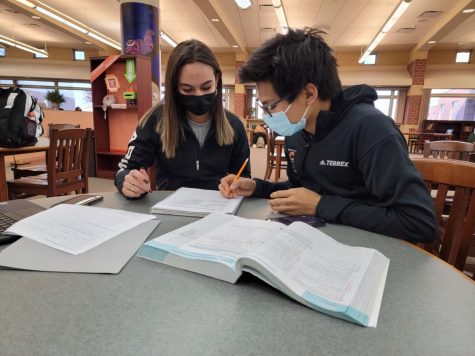 Numerous tutoring opportunities are available at Plainfield East which may appeal to students who wish to improve in their classes and understanding.
Peer tutoring, which involves National Honor Society students volunteering to help others, has been making improvements, according to math teacher and NHS sponsor Denise Griffin.
 "It's getting easier. We had a learning curve this year because of turnover in the library. They're fully staffed again, so now that they're fully staffed again, it will be easier," Griffin said.
Besides peer assistance, teacher help is available in core subjects of math, physics, and English.
Math tutoring is available from 2:30 to 4 P.M. on Mondays in room 217 and on Tuesdays in room 207. On Wednesdays, students can meet from 6:30 to 7 P.M. and on Thursdays from 2:30 to 4 P.M. 
Physics tutoring is available on Tuesdays and Thursdays from 2:15 to 3:45 P.M. in room 217 and on Google Meets if students are not available in person.
English tutoring is available in the English Tutoring Lab on Google Meets Monday through Thursday afternoons and evenings for 20 minute appointments.
Time slots are 20 minutes each, and two students may schedule each time slot.
Math teacher Sandra Castillo said, "There aren't many students at one time that need help, and so that way we can provide as much help as possible in that short time." 
Thomas King, physics teacher, said tutoring can differ. "It depends on why the students are coming to me," King said. 
King said, "A lot of times students will come to me if they need to make test corrections. If they did poorly on a test, they can bring in their test. We'll go through what went wrong and make corrections."
"I'm here to help. It's something that everyone struggles with; you're not alone," King said.
Math teacher Christine Torres said those who hesitate to get help should not worry.
"Don't be shy. Everyone that has come has walked away feeling more confident," Torres said.
Torres notes tutoring's success as well.
Torres said, "All the students that are coming are learning, and they keep coming back. That's the direct proof that it's successful."
Griffin said, "You should never be afraid to seek help and ask questions when you're struggling, and the sooner the better."
Griffin also explained the benefits of peer tutoring. 
"It gives them another opportunity to get help during the school day. Sometimes I believe students are more receptive to their peers," Griffin said.  
Peer tutoring takes place in the Media Center every week from Tuesday through Friday during study hall periods. One can get involved in peer tutoring by filling out the google form linked to the QR code in classrooms, google classrooms, and the media center.
  Sebastian Vega, senior, said he started tutoring because he feels joy that he plays a part in his peer's success.
Vega also said peer tutoring is a safe place.
"They should know that it's a place for growth and a place for kindness. Every single tutor that's here helping the students at Plainfield East are kind. They're taking the time out of their day to help people," Vega said.
Isaac Rodney, junior, who is involved in the math honor society Mu Alpha Theta, said, "It's like a friend-to-friend talk."
 Rodney said he works to create that safe space.
"I ask them how they're doing every time we go through. I make sure they're not having confusion or frustration with how to get through the problems," Rodney said.
For Vega, a typical tutoring session looks like this:
"I go over what they're learning first, so I can grasp an idea of the subject matter. Then I go over specifically what they're struggling with. If they have a worksheet, I'll work out the example, so they can see how to do it, explaining each step," Vega said.
After the specifics, Vega said he gives the student being tutored a methodology to follow and has them do a problem to see if they can apply the concepts. 
Griffin said that peer tutoring is effective, as "it's during the school day and gives students an opportunity to get help during the [student's] day."
A significant change to peer tutoring, according to media center assistant Marissa Irelan, is that "it's more organized this time around with the process and even just signing up for it."
Media Center Specialist Shannon Whalum said, "It's just great to see students collaborate together."
Torres said she hopes everyone feels safe in their tutoring sessions.
"Hopefully everybody feels that all of their questions are valued, because their teachers are wanting to work with them," Torres said.