Staff finds comfort in renovating media center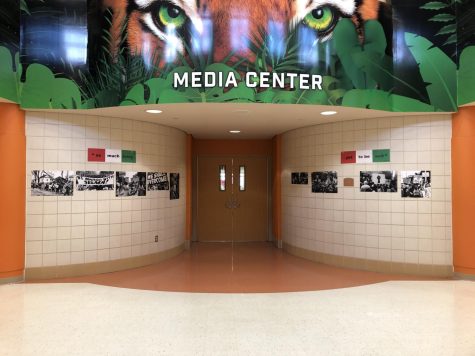 New books, new furniture, new organization: the media center is adapting with the times.
One of the modifications is a new layout, according to Media Center Specialist Shannon Whalum who is also new to the position.
"We added these standing counters and took out some desks. We're trying to fundraise for more furniture, more comfy furniture," Whalum said.
The fundraiser, including one scheduled for Feb. 23 to Feb. 25, features sales of hot chocolate and cookies. 
Not only is the furniture layout reorganized, but the books as well.
  Media Center Clerk Carli Enzenbacher-Mick said, "It's going to be so much easier for the students to find the books that they're looking for." 
While the changes are headed by Whalum, Media Center Assistant Marissa Irelan said all media center staff members work together to make it happen.
Some of Whalum's inspiration comes from her years of teaching. She said, "As a teacher and especially with the pandemic, returning from a pandemic, I just thought that students didn't really have a comfortable place to be."
Whalum said she is "trying to provide somewhere that's comfortable and relaxing."
Irelan said, "If they want to lounge around in our lounge area, they can go sit on the couches. If they want to just be at a table by themselves to have some 'me time,' they can also do that because we have plenty of space available for them."
Students "can go to where their wants and needs are at that time," Irelan said.
The media center staff strives to provide a physically safe space and a mentally safe place.
To create this comfortability, the staff work together to promote diversity.
Whalum said she purchases books from authors from different backgrounds and makes cultural displays.
Whalum said, "We're connecting to geography classes who are studying Asia… Nothing major necessarily, but we're making lanterns for the lantern festival. We've got a coloring page and jigsaw puzzles, and we're doing origami."
A main priority, besides celebrating diversity, is the focus on students. Whalum said students always come first while making the decisions.
Whalum said she is always open to student feedback and wants students to feel comfortable giving suggestions.
Students have reacted well to the changes, according to Enzenbacher-Mick.
"The students have multiplied by how many are coming to the media center. We didn't get this many students prior, so every change that she (Whalum) is making is definitely working," Enzenbacher-Mick said.
Senior Aalya Masud said, "It's quiet. It's a fun place to hang out."
All of this works towards the end goal of the media center, which is "trying to get students down here," Whalum said.
Leave a Comment
About the Writer
Mia Graske, Editor-in-chief
Hello, my name is Mia, and I am currently a junior. This is my second year on East Side News. I love music and art. I am looking forward to new stories...