Billy Cobb mesmerizes through invisibility
Sparkling guitar riffs and Billy Cobb's classic compounding chaos open "Karma vs The Invisible Man," the one-man band's newest album.
Released on Jan. 28, Cobb brings introspective notes and lyrics, both heart-breaking and healing, to his already plentiful repertoire of releases – and "Karma vs The Invisible Man" proves the most stinging and stunningly beautiful of them all.
The first track, "Expectations," shimmers with the despair of leaving, but makes an anthem of the freedom one garners from not bowing down to another's ideals.
With the first verse commanding "Collect your things, get out the door, don't make a scene on the way out," in a peppy and cheerful tone with a gentle timbre, the juxtaposition of the bridge finally clamors "Each time I blink / Each word I sing / I will not sink to your expectation."
"Let Me Down" demands attention with a vivace tempo and simplistic texture contrasting the detriments of missed hope found again and again within the lyrics.
After expressing how "You let me down again, again, again," the post-chorus proclamation that "The kind of lifestyle in which I want to survive / It is ultimately up to you" differentiates with the self-determination of "Expectations," only further proving a reflection of man in Cobb's music, as the complex dichotomy of life and love awakens.
Although name-calling in "Genie" adds nothing of substance to the album's overall existentialism, the hopeless ballad pining over a pixie-esque woman is charmed by Cobb's musical serenading in the contrast of pitches and melodious earworm verses, much like "Girls Are Hot And I'm Afraid of Them," a track from his 2020 album "Graduating Life."
Following "Put It Down," a somber but hopeful interlude "Deus Ex Machina (The God Machine)" presents a modified version of Cobb's notable brooding reflections, also found within his 2020 EP "Who Shall Its Folds Divide."
Powerful lyrics accompany the crescendoing piece as the climax to "But every day it keeps getting faster / And every year is better than the last / So tell me why I keep looking back" combined with the gentle come-down after the quartic repetition of "It's getting faster every day" offers a stark depiction of feeling improvement while remaining in the past.
The final track, titled "Karma vs The Invisible Man," presses for acknowledgment and not "much in return," just that "… I hope one day you'll see me / Realize I'm listening / Feel the radiant colors my aura surrounds you with daily / And I can only hope that you'll want me to stay." 
The vigor and pain in between humble piano tunes both crushes and empowers – hope remains after the loss of autonomy and the realization of future discernment.
Although some may be off-put by the categorial combination of harsh vocals and yelling he often brings to the final lines of many of his tracks, Cobb's passion is ultimately unparalleled in the begging of conformity, the release of passion, and the finality of desperately wanting to be seen.
Overall, Cobb's trembling and hard-hitting cacophony refreshes as an exfoliation of human nature itself – brash and unpredictable but persistent through the permanence of invisibility.
Leave a Comment
About the Writer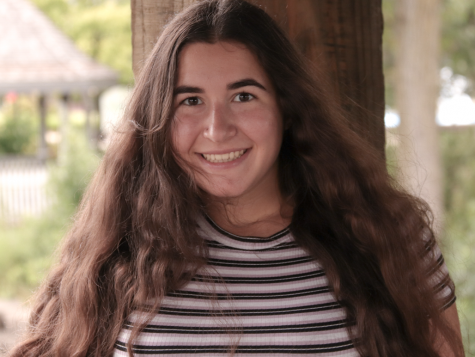 Laine Cibulskis, Editor-in-chief
Writing is one of my many passions. I'm a senior this year, and this is my second year as the Editor-in-chief of East Side News. I love exploring the happenings...