Senior homecoming royalty winners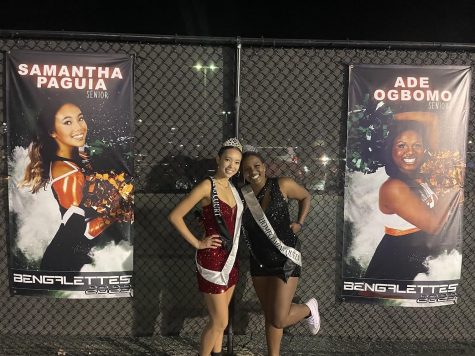 Every year, high schools all over the country participate in the annual tradition of homecoming. The festivities include a spirit week, pep rally, and of course a homecoming dance which goes hand in hand with the homecoming court. Homecoming court is a chance to vote for your friends and see who wins. The students that get nominated each year compete against their peers to see who will be crowned king and queen of their grade. 
This competition is especially important for seniors because here at Plainfield East High School, three pairs of seniors win, but only one pair is crowned royalty at the homecoming dance. This year's royalty winners were Samantha Paguia and Adesuwa Ogbomo. 
"I'm just happy I got to win with my best friend," said senior Samantha Paguia.
Winning isn't just about one person, it's about two people coming together and pushing their campaign in a friendly competition with their peers. It feels good to have someone by your side.
The people that win homecoming court aren't always necessarily the most "popular" people in their grade, they are usually chosen because of their personality and the way they treat other people. 
"I like to make people feel included," said Adesuwa Ogbomo.
Running for homecoming court isn't just something that people do just because they want to win, it's done to show their school spirit and to bond over the experience of campaigning with someone that is close to them.
Leave a Comment
About the Contributor
Olivia Kozak, Photographer
Hi! My name is Olivia and I'm a freshman here at Plainfield East. I enjoy photography and take photos for East Side News. I play badminton and I like...