NEWS: Choir finally returning to normal?
Over the past 2 years, Choir has been heavily affected by COVID-19; missing out on concerts, field trips, and the community building that choir has seen in more normal times. Thankfully, Choir is starting to return to normal. With Choir Director, Ali Kordelewski stating, "We have had a lot of our events, and it seems more like a normal year." Due to having more of a normal year, the mood of the students in choir has improved since last year. As Kordelewski said, "The mood has continued to be very positive." 
Since the beginning of this school year, Choir has been enjoyed by all of its members. Freshman Stephan Odoi said, "It has been pretty fun." This is in part due to the field trips Choir has taken. They recently saw Anastasia downtown.
Being a freshman is way different then a senior, as Odoi said, "It's not the full experience." Senior Ricky Branch stated, "Senior year is more fun." Branch's opinion shows the choir hierarchy of the seniors being student leaders.
Other than being a student leader, being a senior has other benefits. You can compare your singing abilities in your first year of choir, which for most is their freshman year, to where they are now. As Branch said, "Your voice changes overtime." This can have advantages and disadvantages depending on the person, as you can sing a specific note better or worse than before. 
Students that were interviewed gave many reasons why students should join choir. Kordelewski said, "Choir is for everyone. If you can speak, you can sing." Choir members also noted that choir is a community. Odoi said, "Go for it. You're not losing anything." Branch stated, "We go on field trips." All of them also noted that Choir is a community in which everyone knows and likes each other. 
Despite being limited by the pandemic for two years, Choir has been able to return back to normal. As a result, Choir is now able to do their normal activities as done prior to the pandemic, allowing students to get their full experience once again.
Leave a Comment
About the Contributor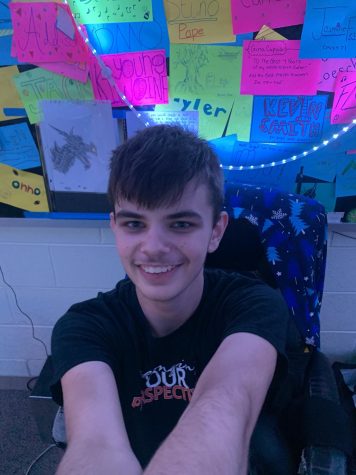 Jacob Langan, Staff Writer
Hello! I am Jacob Langan. I am a senior here and this is my first year with ESN. I am also involved in 3 other clubs, with those being Student Council,...