SENIOR GOODBYE: Khadijah Halim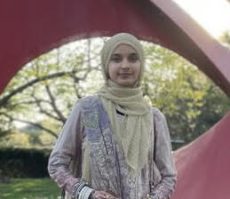 Starting fall of 2020, I joined the East Side News crew near the beginning of my sophomore year. As the school year was remote at that time, I was introduced to the realm of journalism entirely through a computer screen by creating infographics. Through graphic designing, I was able to ascertain a hidden interest of mine, in which I was able to unleash my inner creativity and artistic skills. With my experience as part of East Side News during my junior year, I was able to further expand my opportunities in person with the art of writing news stories. 
After working with and being mentored on the first few stories, I was able to become a more experienced writer myself and contribute as an editor in my senior year in journalism. Additionally, I was able to try new tasks in journalism through writing an editorial piece and review article during my time with East Side News, which enabled me to articulate my thoughts and opinions through writing. Not only did I grow as a writer by deciding to contribute to the school newspaper, but I was able to step a little outside of my comfort zone by interviewing others to include their thoughts in the newspaper, as well. 
Moreover, I decided to branch out further by deciding to compete in headline writing my junior year, and discovered writing catchy headlines with alliteration and puns is something that is enjoyable to me. I am grateful for the unique opportunities provided to me each year in journalism, from competing in the IHSA state competitions for headline writing during my junior year to listening to the lectures at NISPA during my senior year. 
I also appreciate the times during my junior year working on the newspaper when we would stay after school for Late Night and finish designing the pages for the newspaper in the J-lab. East Side News provided me with a comfortable and cozy environment both in the J-lab and the classroom and made me look forward to working on and finishing up tasks for the newspaper. 
Becoming a part of East Side News has become a part of who I am at Plainfield East and beyond with the extensive amount of knowledge and skills I have acquired from each unique experience.
Leave a Comment
About the Contributor
Khadijah Halim, Staff Writer
Hello! My name is Khadijah Halim and I am a senior at PEHS this year. This is my third year in journalism, and I am very excited to further contribute...