FEATURE: DECA aids student perspectives in business with opportunities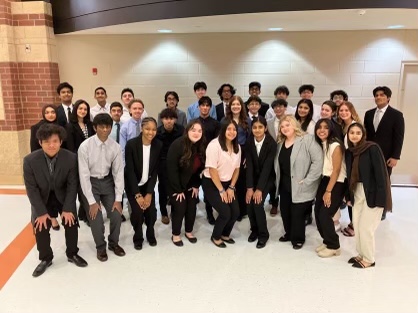 Propelling this generation's students to success, Distributive Education Clubs of America (DECA) has something for everyone to learn and strives to prepare members for the future.
"People should care about DECA because it is helping prepare our future generation in the workforce. Also, with DECA, we have gained so much recognition with other high schools in Illinois, and it has helped build the reputation of Plainfield East," said Samaira Haque, vice president of external communications and junior.
On a smaller scale, DECA also has various individual benefits. 
DECA involves competitions where students are given a multiple-choice marketing test, and do role-plays where they are given a problematic scenario relating to business, in which they have 10 to 30 minutes to prepare in order to improve the problem.
Through these competitions, students grow in their skill sets and connections.
"For me, it's an opportunity to make students better leaders, better communicators, give them more confidence, it's another way to connect with students I wouldn't get to know otherwise," said Angel Haney, business teacher and DECA adviser
Other than self-improvement, DECA is a way to get voices heard, and to convey different perspectives.
"I'm able to express my views on the business side of things. I've always been passionate about business, so it's a good way to get involved, and view other options in the business world.  It's also a great way to get your voice heard, especially as a woman in business," said Jillian Mole, iconnect coordinator and senior.
DECA is more than just a business club, as members also contribute to the community.
"Along with our competitions, we also volunteer at different organizations, and students learn to fundraise money," Haque said.
Students in DECA are described as a good group of people who are passionate about and involved in business.
"I always have such a great group of kids. Students who want to be leaders, students who want to get involved, students interested in business… Generally they're students that are good at talking to people," Haney said. 
Some qualities of DECA that encourage like-minded students to join are the benefits and opportunities DECA members get to enjoy.
"Definitely talking about our state competition, because we go to Rosemont and we stay with all the other chapters of DECA Illinois. We're able to experience it and share the love of business… It benefits not only people who want to go into business, but just in general because you learn about taxes and finance," Mole said. 
The love of business is a core component of the DECA society, and knits the students together.
"The community is literally so awesome. It is filled with like minded individuals with the same goal, but who are also just regular teeagers. We are all very welcoming, and always willing to help others prepare to ensure each other's success," Haque said.
DECA did meet success March 2nd through the 4th in DECA's state competition, where 7 district 202 students advanced to nationals, and will compete in April.
Leave a Comment
About the Contributor
Mia Graske, Editor-in-chief
Hello, my name is Mia, and I am currently a senior. This is my third year on East Side News. I love music and art. I am looking forward to new stories...