MSA hones henna skills for happier homecoming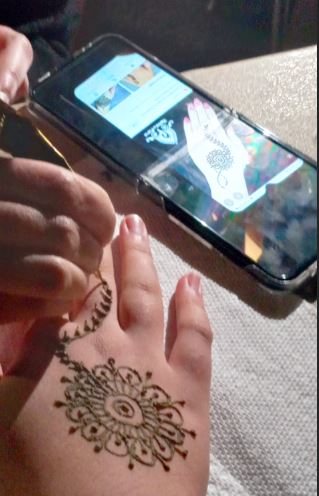 On September 30, the Muslim Student Association, or MSA, held Homecoming Henna at the homecoming football game to raise money for charitable causes. Club members volunteered to apply henna to students for a cost of $2 to $10, based on the design. Among those volunteers was senior Khadijah Halim. Halim has been doing Homecoming Henna since her freshman year–excluding sophomore year due to Covid-19. Another was President Maida Rizwan, who participated in Homecoming Henna since she was in middle school, helping out her older sister who was a freshman. 
"[I love] being able to do an activity with the rest of the MSA club, being together and hanging out and doing something for the community at the same time," Khadijah said when asked about her favorite part of Hoco Henna. This is a way for the club to get together and bond over raising money for a good cause.
Henna, or 'mehendi' in Hindi and Urdu, is a type of dye made from the Lawsonia inermis plant, also known as the henna tree, and has been traditionally applied to design the hands, feet, and arms.There are two types: chemical based and plant based. 
"It depends on the type of cone used. MSA has used plant based cones this year. While chemical based cones develop faster, the plant based cones make henna available to everyone regardless of allergy or age. After henna is applied, you leave it on with no contact with water. The duration the paste stays on depends on how dark you want your stain. The longer you leave the paste on, the darker it gets," Rizwan said regarding henna cones. 
Henna leaves a dark maroon color on your hands when you leave it on for enough time and stays for about a week. 
"I love being able to use my background and culture to give back to my community. In previous years we have donated to MUHSEN, a special needs organization. This year we are donating to Brotheran-e-Allahabad Welfare Society for flood relief for those in Pakistan," Maida said in regards to where the money will be donated. 
Since July, a huge flood has been raging in Pakistan, displacing over a million people. The money sent there would aid in bringing their lives back to normal. Otherwise, the money is usually donated to MUHSEN, a Muslim association helping children with special needs. This is a way to give back to the community while also doing something good for the students. 
Along with this year's henna event during Homecoming, MSA will also for the first time be offering henna later in the year for prom. 
"I've seen how many people rush to our henna booth during games to adorn designs from asian culture," Maida said as her reason for starting prom henna. 
MSA holds weekly club meetings on Fridays where students get to bond together while playing games and having fun. 
Expressing her thoughts on the importance of MSA and that anyone can join, Rizwan said, "I'd really like to highlight to those not apart of the Muslim community that anyone regardless of race can be Muslim. Islam isn't something you need to be born into. I'd also really like to spread awareness against the countless genocides happening against Muslims and islamophobia." 
MSA is open for anyone and everyone to join. Students can stop by room 418 after school on Fridays or volunteer for any events that MSA holds in the future.
Leave a Comment
About the Contributor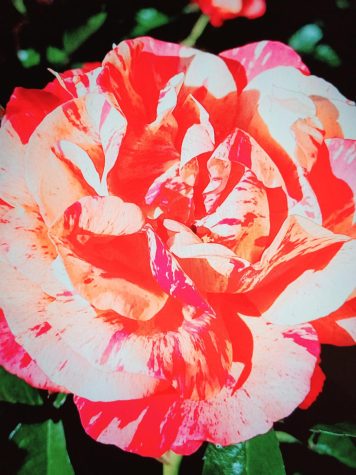 Saadia Musani, Staff Writer
Hey PEHS!! My name is Saadia and I'm a freshman. I love reading, writing, badminton, and traveling. I'm also part of MSA and do taekwondo after school....