Xander Majovsky, Hockey Spotlight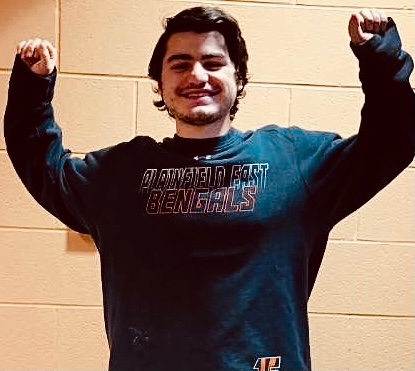 What team do you play for? Position?
Plainfield Predators Hockey Club. Defenseman.
How long have you been playing hockey? How many years?
I have been playing since I was 10, so about eight years.
Words you live by/ favorite quote?
"Respect is earned, not given."
Most memorable game or practice this season?
Senior Night against Oak Lawn.
Favorite hockey player?
Jonathan Toews.
Do you plan on playing hockey in college or professionally?
When I was younger I definitely had the dream of playing in the NHL, but I think that I am satisfied with what I have been able to accomplish and feel that I have done all that I can.
How did you get started playing hockey? 
The Blackhawks were a very big deal because they were very successful, and I would be so into the games that I wanted to be a part of them. I had been playing soccer for a while and was starting to get bored of the same thing after a while, so I decided to learn how to skate and get into playing hockey from there.
What lessons has the sport taught you?
Hockey has taught me lessons about perseverance, and how adversity shows a person's true character.
Favorite pregame song to listen to or rituals?
Before a game, I usually like to listen to classical music, mostly movie scores, because they help me focus on the game and what I need to do to be successful. I usually don't listen to very loud music because I don't really need to get psyched up before the game.
Three words that describe you?
Honest, hardworking, driven.
Did you have any setbacks this season?
There are always the setbacks that come with injuries, but I have become accustomed to those ever since I started playing. A lot more of the setbacks come with the mental part of the game where sometimes you get really worn down midway through the season and need to find a way to get out of it.