Pandemic ponderings
East Side News investigates behind-the-scenes roles of staff
East Side News investigates how daily life during the pandemic has changed not only for students, but staff as well. The writers and editors will interview various staff members about how their educational roles have changed with e-learning.
This first segment features Library Media Specialist Callie Romenesko. This is her first year at East.  
What does your job entail?
With this year and remote learning, it has been a little different, but I have been helping out a lot with teachers and getting technology set up for remote learning. I've been keeping track of the school website. I've created a Google site of resources for e-learning. I've also made e-learning resources for students as well, and I've also been running curbside checkout and helping get the library ready for when students return. I do Book Club as well.
Did your training and degree train you for a situation like this managing the media center remotely?
Nobody could've predicted the pandemic, but I would say the training for my degree did help me with some skills to try … for any school setting. … Even with library training, even if you learn all of the content, there's a lot of things that the degree might not prepare you for, but it did give me the general skills to be able to transfer my skills from an in-person setting to online.
How does the library work now? Describe the process to check out a book.
When a student goes to check out a book, … go to the PEHS website, click on "Media Center," and then there's a link for accessing books and more. From there, … log in with … student ID… Search for a title … keyword or subject. … Click on the book and place a hold. We get a notification … and can check it out to the student [at a convenient time]. … Pickup is available from Tuesday to Thursday from 8 a.m. – 3 p.m. There is also an instructional video on … the Media Center site from the PEHS homepage.  
What is your favorite part of being the media center specialist?
My favorite part of being the media center specialist is seeing what the kids check out, being able to get books to students, and making sure people can still get access to books during these uncertain times. 
What is the most interesting part of the job?
I still feel like I am learning a lot at my job, which is really exciting, even with getting to explore new technology and new programs, and seeing how that applies to the library. I feel like I learn something new every day which is very exciting for me. 
How might your job change once students return to the building?
I'm hoping to see a lot more students check out books. I'm excited to see how we will navigate the space with social distancing, but I am excited to be able to have more of that connection and more face to face time with students, … to build those relationships. Whether it's asking for book recommendations or tech help, I'm excited to see students come back.
How has interaction with students changed due to the pandemic?
It's more work to build those relationships, and how to make sure you can still express yourself via email. … And even through our Library Media Center Twitter, it's been exciting to see people like the Tweets and like what we put out there.
Leave a Comment
About the Contributor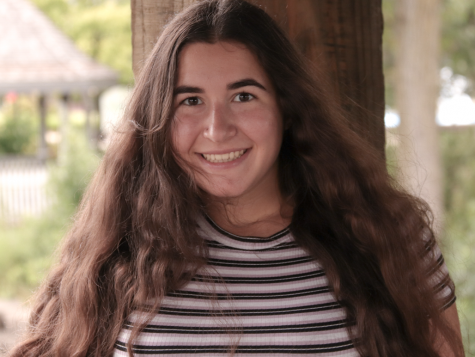 Laine Cibulskis, Editor-in-chief
Writing is one of my many passions. I'm a senior this year, and this is my second year as the Editor-in-chief of East Side News. I love exploring the happenings...