Digital format transforms acting for student performers in fall play; community remains
While the experience of performing arts at Plainfield East may not be the same as before the pandemic struck, the play and musical companies persist. 
The junior/senior musical, Emma: A Pop Musical, is based off of Jane Austen's novel Emma – except it takes place in a modern day high school with a matchmaking twist, featuring well-known music from throughout the 21st century, according to Choir Director Ali Kordelewski. 
The freshman/sophomore musical will be a musical cabaret with a group song, solos, and duets from various musicals across the board.
Like the fall play, the musicals will be available for everyone to watch.
In December, student performers released a YouTube link of the fall play. Watch the play at the following link: https://www.youtube.com/watch?v=_2Jvk_zVpp8&feature=youtu.be
Play Director Courtney Beresheim chose Antigone for 2020's fall play, with mostly juniors and seniors auditioning. 
Antigone, written in the fifth century B.C. by Sophocles, explores themes such as whether a person must follow the rule of man or possesses the courage to listen to one's conscience, even if following one's own moral code could lead to death. 
While mourning the death of a loved one, protagonist Antigone endures many dark twists in life during this Greek tragedy, which belongs to the public domain and avoids broadcast rights as the students move from a school auditorium to a virtual platform. 
"We had everything recorded over Zoom, but, because Antigone is in the public domain, we don't have to worry about getting rights for it. I also used to teach Antigone when I was a sophomore honors  teacher… I really like the ideas that Antigone raises, even though it gets very dark and depressing at the end," Beresheim said.
As many aspects of life have changed with the rise of COVID-19 over the past year, the drama community experienced changes as well, such as a completely virtual season and performance.
The actors and directors faced challenges when approaching the season virtually.
"Some of the biggest challenges were the fact that it's really hard to make a connection with a scene partner when you're not actually there… So much of acting is reacting, so especially when you have to deal with the lags that happen with Zoom," Beresheim said.
The acting experience was consequently altered as well.
"Over Zoom, it's one thing if you can create that initial connection in person and then you're just trying to maintain it over Zoom… It just makes it a little bit harder because a lot of the things you draw on as an actor you don't have access to. Even though you're present with other people, you don't have that same ability to play off them," Beresheim said.
However, the online format may have helped the actors in different ways than before.
Wesley Smith, senior and established actor in East's play community, said the online practices and recording the play through Zoom "allowed for different improvement… We never had individual time with each other to practice. It would always be everyone in the same Zoom."
"It definitely helped when it came to communication," senior and veteran play member Tionné Guthrie said.
"Usually the fall play, even though it's a really positive community, we don't get as close as we did this year. This year, we had a cast of about ten people, and it became pretty tight-knit… It was definitely more of a very small family dynamic," Guthrie said.
Improvement was not limited to communication, but also involved acting logistics in a Zoom environment.
Guthrie said, "I had to work more on specifics."
"At first, I could use my body, the people around me, where I position myself, to express what I'm feeling. But when you can only see from the shoulder up and occasional waving of hands, you can't really express what you want to," Guthrie said.
"I feel like I definitely developed better facial expressions. I became a lot more animated in what I was doing, and was able to get that across just with different facial features, which was something I didn't have to worry about before because when people are five rows back they don't see your face all too well," Guthrie said.
"When everything's focused on just one part, you definitely have to improve different skills that you normally wouldn't have. It definitely brought out some creativity in all of the cast. We all were coming up with different ideas to make this environment work for us," Smith said.
Guthrie said the formatting also opened up some doors for the cast as well.
"One thing about this year's fall play [was that] it allowed for a lot of creativity, and a lot of different involvement from the actual cast. We had people who decided they wanted to do dramatic endings when [their characters] died, which was nice," Guthrie said.
The lack of live audience and in-person practices did not result in a lack of dedication (or talent) in the fall play.
Guthrie said, "Everyone that was in [fall play] this year, they wanted to be in it. They wanted to make this the best show that they could. All of them were very talented. It was nice to have a group where everyone was committed to what we were doing."
Guthrie also composed an original song for the ending credits.
"It's something you really can't do in typical fall play especially since it's usually newer plays and we don't have that much control over the script, but since this was an older play, we were able to change things around a bit," Guthrie said.
Watch Antigone from the comfort of home on any day or time at the following link (also mentioned above):
https://www.youtube.com/watch?v=_2Jvk_zVpp8&feature=youtu.be
Leave a Comment
About the Writer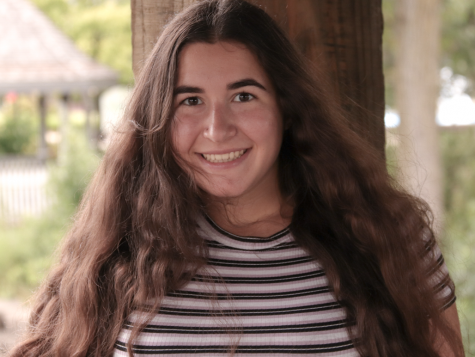 Laine Cibulskis, Editor-in-chief
Writing is one of my many passions. I'm a senior this year, and this is my second year as the Editor-in-chief of East Side News. I love exploring the happenings...